Mezzanines can be equipped with several different types of stairs, railing and gates, depending on needs and wishes.
Stairs
As a standard, our stairs are made in a straight design, with aluminium steps and landings, which is required if the stairs' total height exceeds 4000 mm. However, we can also offer spiral stairs and evacuation stairs with safety hoops.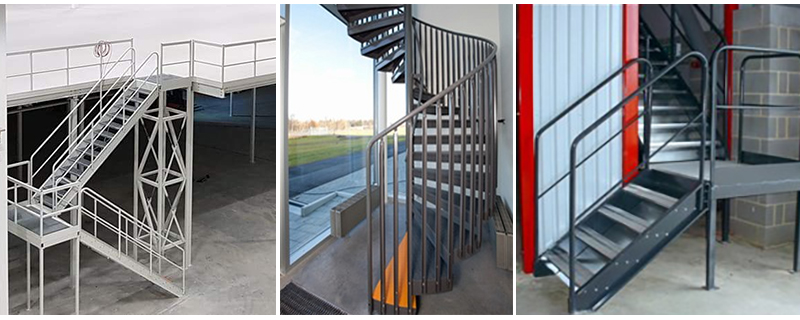 Railing
In our assortment for railings, we can offer both fixed and removable railings for most areas of use. All railings are dimensioned according to the standard EN ISO 14122-3: 2001.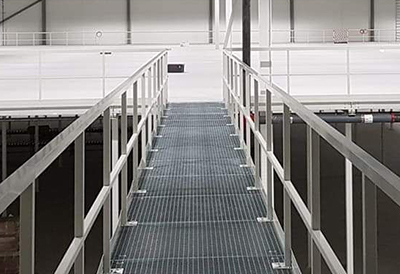 Railing 191
A modular railing that consists of columns of square pipe, kick-plate/cover fittings, intermediate guide rails and handrails made of bent sheet metal profiles.
Surface: powder coating
Standard colour: blue RAL 5010
Railing 200
A removable railing that can easily disassemble railing sections. Railing arch in pipe (diameter = 33.7 mm) with intermediate guide rails and kick strip at the bottom.
Railing height: 1100 mm
Standard colour: light grey RAL 9002, silver RAL 9006, blue RAL 5010.
Collision railing PR-300
Strong collision protection with integrated railing. Bolted to concrete floor. Has brackets for attachment of railing arches of round pipe (diameter 48.3 mm). The arches can be lifted off when necessary.
Supplied with expansion shell bolts
Standard colour: yellow RAL 1003
Gates
We offer several different kinds of gates, entirely depending on your needs and areas of use. From regular standard gates to automatic sliding gates.
Standard gate SGD-191
The standard gate consists of two doors that are suspended on self-closing hinges. Equipped with support wheels and latch hooks.
Available with 3 opening widths: 1500, 2000, 2500 mm
Height: 1100 mm
S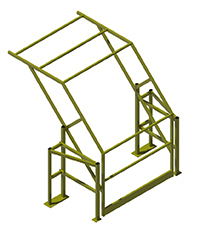 ecurity gate SGV-1500
Security gate of a so-called "rocking type". The gate swings around a centre axle and creates room for the goods, which when opened towards the forklift side, is closed to access from the mezzanine level. When the gate is open towards the mezzanine level, it is closed to the forklift side. The gate can be locked in the respective position.
Opening width: 1500 mm
Depth folded down: 1700 mm
Opening height: 2170 mm
Sliding gate SKG
A manual sliding gate is a good alternative when you want a wide opening for the handling of bulky goods. The sliding gate consists of two doors that are suspended in a rail system on either side of the gate.
Production is customised with regard to the gate opening's measurements. Max 3500 mm.
Height: 1100 mm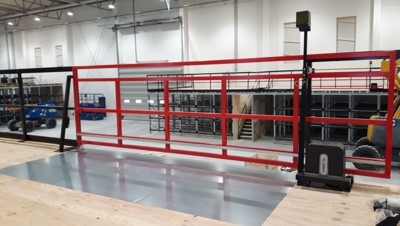 Automatic sliding gate ASG-721
An automatic electric sliding gate ensures that the gate is automatically closed after a set time. Opening/closing takes place by remote control, which can be controlled by the forklift operator on the floor level. The drive takes place through a powerful engine that is fed via 230 VAC. The motor has electronic control with slow start/stop and has several programming possibilities for automatic closing.
The gate opening is equipped with photocells that keep the gate from closing as long as goods are in the gate opening.
The gate can be opened to the right or left depending on design.
Standard openings are: 1500, 2500 or 3000 mm
Connecting railing is included
CE-marked