The GT90 cantilever rack, as a single- or double-sided configuration, is installed either with a central column or against a wall. The cantilever system has a solid and well-tested design with screwed arms made of hot-rolled IPE profiles.
The racking system is specially designed to easily store and organise storage of long goods, such as steel bars, piping, timber, metal sheets, boxes, boards or tubes of various lengths.
Dimensioning and production takes place based on requirements from each individual delivery, which creates considerable flexibility as every installation is customized, based on load, height, arm length and working environment. A large range of accessories means that the racking system can be adapted to needs and applications.
Components and structure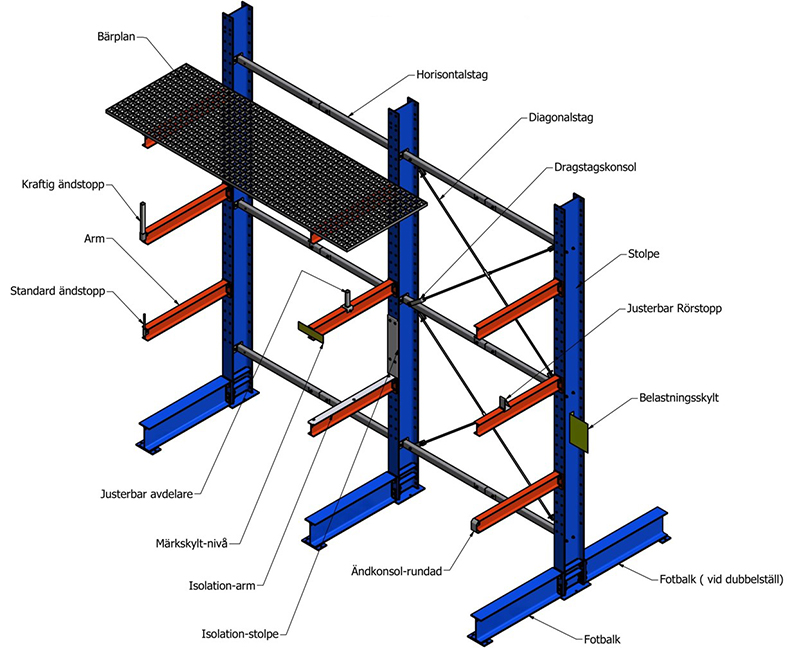 Load & dimensioning conditions
A prerequisite for the right dimensioning of the rack is knowing what will be stored: goods weight, dimensions, geometry and the goods' positioning in the racking system. Production is done with modern machinery according to SS-EN 1090-2, and the GT90 cantilever rack is dimensioned according to FEM 10.2.09, Cantilever Design Code.
Cantilever with roof for outdoor use
Roof dimensioning is done according to the given snow zone, and the design consists of roof brackets, Z lightweight beam profiles, roofing sheet TP45 and ridge fittings. The standard design for the roof incline is 5 degrees.