We at Gonvarri Stålteknik AB are experts in designated products and solutions within material handling and mezzanine systems.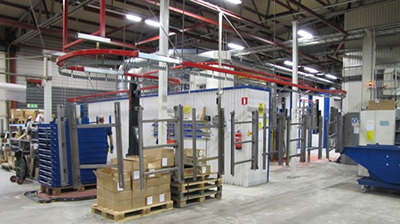 We have many years of experience within this industry, and we use our knowledge from the market to develop new products continuously. We focus on both detail and the full picture, and control the entire chain, from construction to production.
Our main sales channel is via dealers in Scandinavia, but we are also represented in Germany and France. We sell only to partners and dealers (B2B).
History
Gonvarri Stålteknik AB is part of the Gonvarri Material Handling family, which is owned by Gonvarri Industries, a leading company with a global presence which numbers 43 steel service centers, more than 6,000 employees and reached a revenue of more than 3.6 billion euros in 2018.
Gonvarri Stålteknik AB is formerly known as Canrena System AB. The company has been in business since the 1980'es, with considerable growth through both continuous product development and mergers like the one with Stålteknik in Fellingsbro. Beginning of December 2018 Canrena System AB was purchased by Gonvarri Material Handling AS, changing its name to Gonvarri Stålteknik AB.
Today Gonvarri Stålteknik has 34 employees with the main office in Karlskoga, and production/shipping from Fellingsbro. The units in Fellingsbro and Karlskoga are completely integrated. Production begins in Karlskoga with construction, processing of beam and frame using robot technology and is finished in Fellingsbro using welding robots, surface treatment, installation and shipping.
Company number: 556174-0845
VAT no: SE556174084501